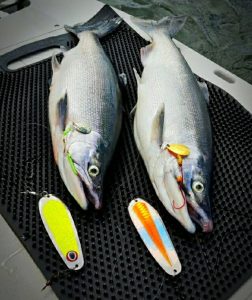 When our guide Randy came across GVF Lures a couple years ago, we quickly discovered that this brand is different. In a great way!
.
Rich is very meticulous in his design and construction. What he's created are unique lures that flat out catch fish! There is nothing on market like his spinners, dodgers, spoons and "smoochies".
.
For the past few years, GSO Fishing has relied on his tackle to get fish in the boat and help us be more efficient on the water.
We don't take our recommendations lightly and we can assure you that GVF Lures will help you get more fish in the boat!
.
GVF Lures can be purchased at Gene Taylors Sporting Goods Gunnison as well as other retailers across the US. To learn more about GVF visit their website www.gvflures.com as well as their Facebook page! https://www.facebook.com/gvf.lures
We have more great tips about tackle and all things shoreline fishing here in our blog. For more helpful fishing information and tactics join our GSO Fishing Facebook Group.