Description
The traditional cylinder shape head design along with a 90° line tie of the Heavy Wire Tube jig head, helps hold the tube jig horizontal in the water column, making it perfect for vertical jigging.
The Heavy Wire gets its name from the Trokar 5/0 heavy wire, Pro-V bend hook it's built on. The Trokar hook features a triangle, three-sided, machined point that is surgically sharpened. Because it is surgically sharpened, it requires less pressure to penetrate when setting the hook on a fish.
The Pro-V bend also has a lot less flex compared to a traditional round bend hook, making it ideal for holding hard fighting, jumping, and pulling fish.
Its sleek head design and longer hook shaft make it ideal for 4.5" to 6" tubes. These tube jig heads are also hand poured and trimmed to ensure there are no burrs or sharp edges that can potentially tear up your soft plastics.
This is the perfect tube jig head for targeting large game fish in a vertical fishing situation. Whether you're ice fishing, jigging from your boat, kayak, or belly boat, you'll definitely want this tube jig head on your next fishing adventure.
Helpful Downloadable Documents & Blog Posts:
GSO Ice Team Gear Checklist – Our guides have put together a must-have ice fishing gear checklist that you can download and use every time you are heading out on the ice.
Heavy Wire Tube Jig Blog Posts: Click here to view our entire selection of blog posts related to fishing with our Heavy Wire Tube jigs.
To Learn More About Our Jigs Join Our FREE GSO Fishing Facebook Group.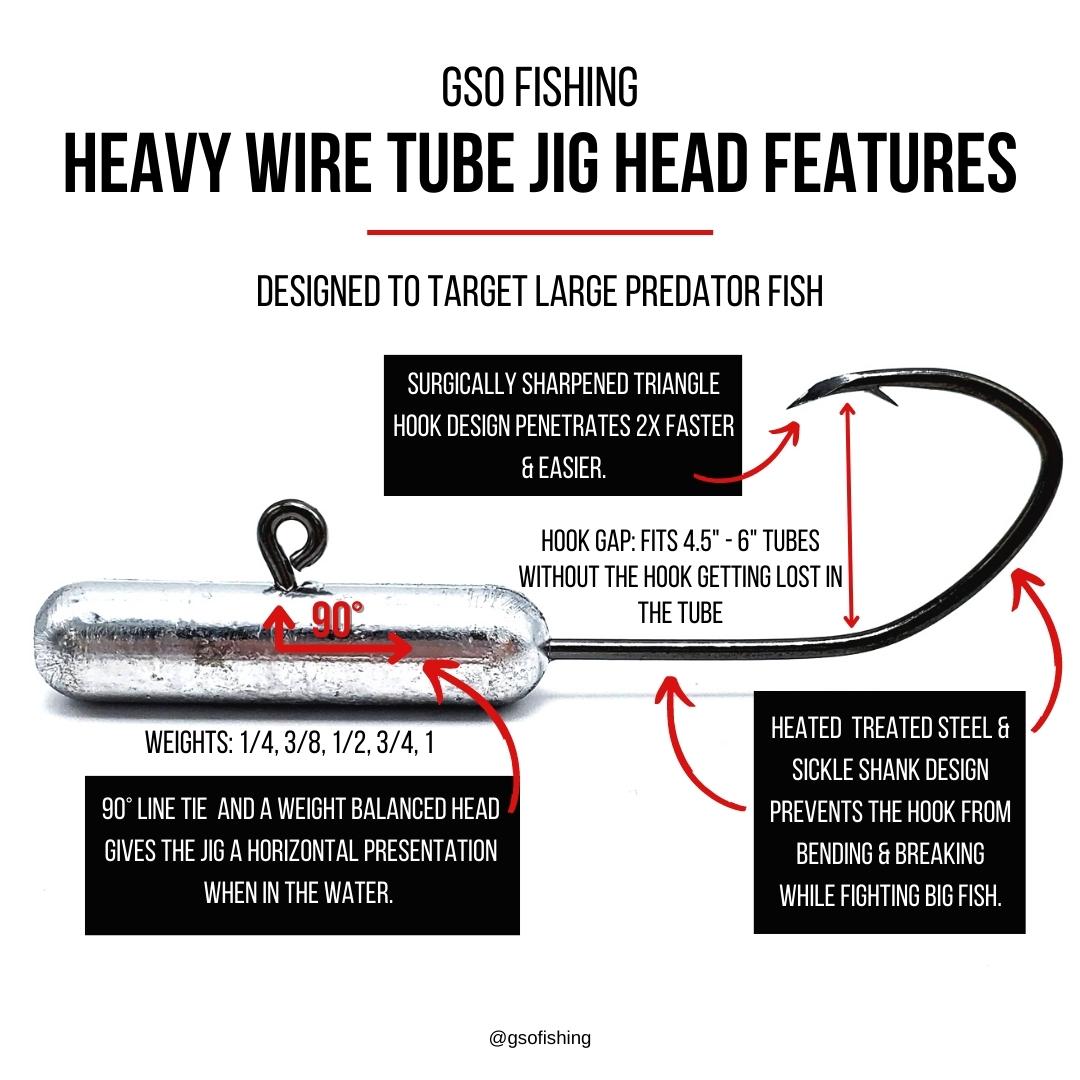 Jig Weights
1/4 oz.
3/8 oz.
1/2 oz.
3/4 oz.
1 oz.

Our Size Assortment Pack Contains One Of Each Size