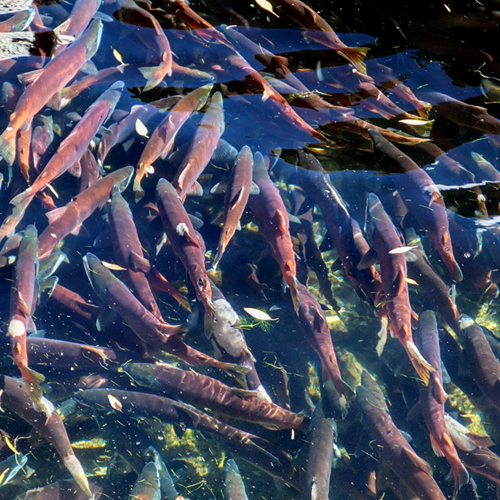 Every fall, thousands of Kokanee salmon make the 30ish-mile migration from Blue Mesa upstream to the Roaring Judy Fish Hatchery. They battle local wildlife, anglers, and, depending on the year, warm/low waters. It's a losing battle for some and a victorious trek for others.
Once the Kokanee make their way from the river, they navigate a series of ponds at Roaring Judy and eventually end up in the hatchery runs. In the runs, they are corralled in pins and wait to spawn. The ponds and sections of the river are closed to fishing during this time, but you can park and walk down to the ponds to watch the salmon make their way up to the runs.
Kokanee salmon are non-native fish to Colorado but are a widely popular sport fish for many anglers. Although they only feed on plankton, anglers successfully catch them all year long because of their aggressive nature. In the fall, it's common practice to see anglers fly fishing for them, as well as spin fishing with spoons and snagging them in the rivers.
As an angler, it can be confusing to understand the regulations on Kokanee salmon fishing in the fall because it's different for each section of water. Below is a breakdown of each body of water and the possession limits.
Regulations: Reference the CPW Fishing Regulations book on pages 19, 21, & 24 for more information.
Morrow Point: Open to Kokanee fishing, 10 fish limit. Snagging Kokanee permitted September 1st – Dec. 31st
Blue Mesa: Open to Kokanee fishing, 5 fish limit. Snagging Kokanee permitted November 1st – Dec. 31st
Lake Fork River: From the upper Red Bridge campground boundary downstream to Blue Mesa Reservoir: Open to fishing, 10 fish limit. Snagging Kokanee Permitted September 1st – December 31st. 
Upper Gunnison River: From the standing water line (high water mark) of Blue Mesa to the confluence of the East and Taylor Rivers: No taking of Kokanee August 1st – October 31st. Snagging Kokanee permitted November 1st – December 31st. 
East River: From the upstream property boundary at the Roaring Judy Fish Hatchery downstream to the confluence with the Taylor River: taking Kokanee is prohibited.
From the Roaring Judy Hatchery outlet downstream to the southern Roaring Judy SFU Boundary: closed to fishing August 1st – October 31st.
Roaring Judy Ponds: Ponds close the day after Labor Day – November 14th. Snagging Not Permitted.
Taylor River: Open to Kokanee fishing, 10 fish limit. Snagging is not permitted.
Taylor Reservoir: Open to Kokanee fishing, 10 fish limit. Snagging Kokanee permitted September 1st – Dec. 31st.
With cooler water temps in the river and the additional activity, fall fishing for trout in the Gunnison river can be outstanding. If you happen to catch a salmon during this time, it is important that you safely release it as quickly as possible.
Despite the fact that many of the Kokanee salmon run up the river, some stay to spawn in Blue Mesa. If they are successful or not is hard to say, but with some of the Kokanee spawning in the lake, it presents unique fishing opportunities for anglers both on the shoreline and in a watercraft.
In the spring, several thousand Kokanee fry are also stocked by truck in several places around Blue Mesa. These areas include Lake Fork Marina, Elk Creek Marina, and the Bay of Chickens. In recent years, the CPW has placed traps in the Bay of Chickens area of Blue Mesa to try and collect more Kokanee from the lake for spawning. Please stay clear of these traps when fishing around the Cebola basin. The spawning program at Roaring Judy provides Kokanee fry for many other lakes in Colorado and surrounding states, so every egg is valuable.
Roaring Judy also offers a salmon giveaway after the spawning process starts. Beginning on the first Friday of October and every Friday through the month of October, fishing license holders can go to the hatchery and receive their limit of 10 fish per license holder. If more fish are available, people can re-enter the line and receive more fish. 
This miles-long Kokanee salmon run presents so many unique fishing opportunities for anglers. Brown and Rainbow trout are also aware of additional feeding opportunities, with many female salmon dropping eggs as they run up river. Anglers can take advantage of this also and capitalize on some of the best trout fishing of the year, along with the opportunity to catch big, hard-fighting salmon at the same time.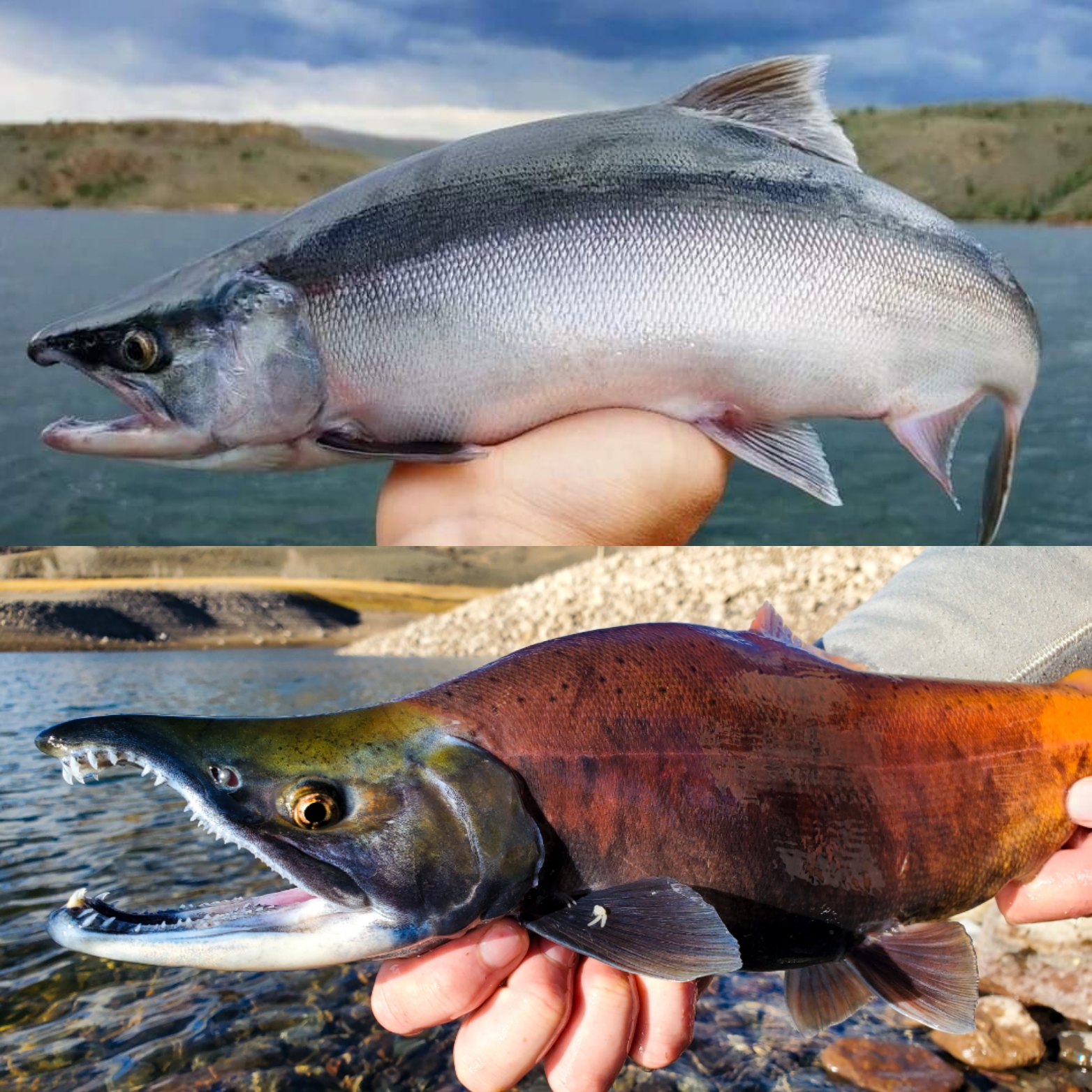 Kokanee Transformation From Silver To Their Spawning Colors
Helpful Links
Colorado Fishing Regulations Handbook: Click Here
Roaring Judy Fish Hatchery Brochure: Click Here
Roaring Judy Contact Information: Click Here
Questions
If you have any questions, click our chat button here on our website or email us at info@gsofishing.com. We are here to help. – Team GSO Fishing