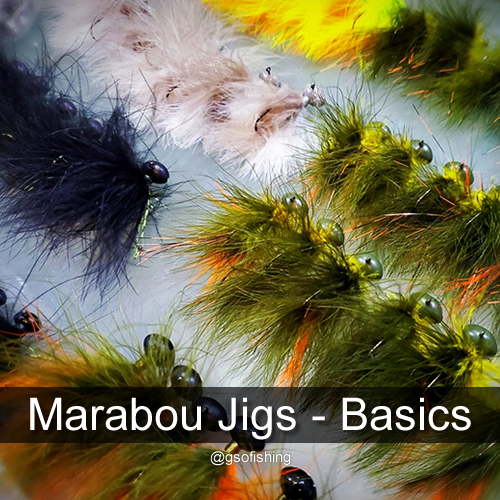 Ever wonder 'what is a marabou jig and when do I use it?' Here is a quick overview of Marabou Jig – Basics. Read our other blog posts for more in-depth information about Marabou Jigs and how to use them.
What Is It:
Cast & Retrieve Jig made out of a painted lead head with marabou feathers as a body.
Sometimes referred to as "Doll Fly, T-Bug, Hair Jig, Crappie Jig, Fry Bug."
The marabou feathers gives the jig much more "life" compared to a stiff bucktail or deer hair bodied jigs.
When To Use It:
When targeting shallow water fish. 15' or less.
These types of jigs work equally well in still water (lakes, ponds) and moving water (rivers, streams.)
Why Use It:
Very subtle and natural bait. Matches Small prey very well. Leeches, crawdads, minnows.
The marabou jig is a top option when targeting fish in clear/lightly cloudy water and where there is an abundance of small prey species. (1" – 3")
Where To Use It:
Most commonly used in rocks and sand. This could be in a river, on the lake shoreline or in a shallow, rocky lake.
Premium marabou jigs are built on a football head, making it easier to fish around rocky structure with minimum head hang-ups. Because Marabou jigs are built with an open hook (no weedguard) it is very prone to hang-ups in weeds, timber and brush so avoid these areas when fishing with Marabou.
.