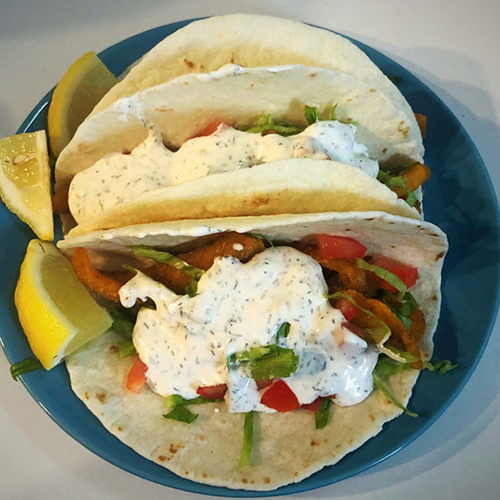 Looking for the perfect recipe to spice up your next Taco Tuesday? Look no further than Rowe's Cajun Fish Tacos! These Cajun perch fillets paired with Liz's Secret Sauce melt in your mouth and keep you craving more!
.
Ingredients:
Blue Mesa Perch (as many as you want to eat)
(Note: Any kind of fish will work with this recipe but we love it with Perch)
1 pkg McCormick's Cajun Seafood Fish Fry Batter

Oil (fill the bottom of the pan with 1 inch of oil)
Flour Tortillas (6-12)
Toppings (lettuce, tomato, lemon juice, Liz's Secret Sauce, or add your own toppings
 etc.)
.
Directions:
Clean fish fillets thoroughly with water.
Heat oil in skillet.
Dip fillets into batter and coat evenly (make sure the fillets are slightly damp to get the batter to stick or use a milk and egg wash. We just use water.)
Once oil is hot place the fillets in the pan but be sure to spread them out so they don't stick together while cooking.
Cook to your preferred crisp then remove fillets from pan and place on a paper towel.
Gently pat dry to remove excess oil. (Try not to eat ALL the fillets at this point! yummy!)
Once the fillets have cooled place them in flour tortillas and top with your favorite toppings. We suggest trying lettuce, diced tomatoes, lemon to garnish and Liz's Secret Sauce!
.
Liz's Secret Sauce:
1/2 cup Mayo
1/2 cup Sour Cream
1 tsp Dill
1/2 tsp Fresh Minced Garlic
Salt & Pepper (to taste)
Cilantro (optional)
.
Mix together mayo and sour cream. Add dill, garlic and salt & pepper to taste. Eat immediately or sit in the refrigerator for 30 minutes to give the different flavors more time to blend.
.
Additional Photos: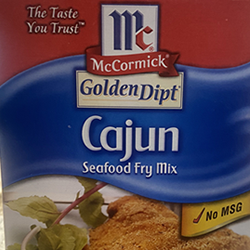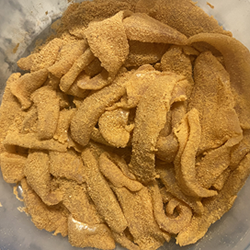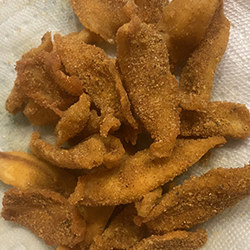 .
Recipe & Photos Brought To You By guide Cody & Liz Rowe.