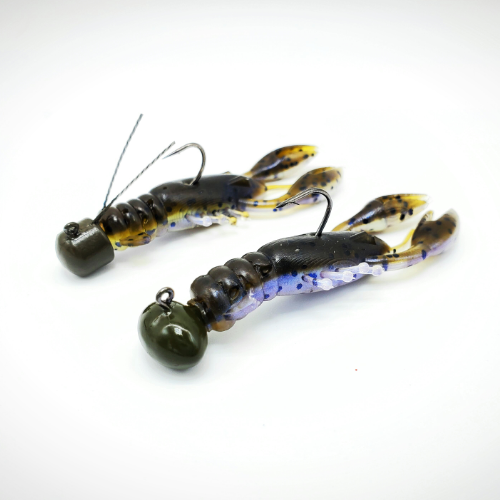 With the addition of the new TRG MudBugs, we thought we'd share a few uses for these soft plastic, Finesse craws. You can use them as a jig trailer or on a football head, or even on a ned rig. Keep reading to find out how.
.
1 – Use It As A Jig Trailer.
We designed the MudBugs to match our Premium Finesse Football Head jigs, but they will work great with a lot of other jigs as well. Matching these with any Finesse jig on the market makes the perfect combination jig head and jig trailer.

.


2 – Use It On A Football Head


Our MudBugs are the perfect size to tempt any fish that eats crawdads. A football head is a great head when you want the craw to lay along the bottom in a natural position.
.


3 – Ned Rig Bait


A technique that's grown in popularity the last few years is the Ned Rig. This rig utilizes a stand-up head and the TRG MudBugs are the perfect bait for it. The buoyancy of the Mudbugs creates a defensive crawdad's pose with the claws up high. A very visual and easy meal for any predator.
Features our GSO Premium Football head with our Magic Craw MudBug. The Ned Rig head in this photo is a Z-Man head. Visit the Z-Man website for more information about this specific head type.
.
We have more great tips about all things fishing, and other great ways to use our prodcuts listed here in our blog. For even more helpful fishing information and tactics join our GSO Fishing Facebook Group.
.